Meet Your Team Leader: Joe Testa
Volunteer Team Leader and Portugal Country Manager Joe Testa began volunteering with Global Volunteers in 1991, and has since served as a team member or Volunteer Team Leader on 68 programs. Throughout his thirty years of service until now, he has served on the following service programs: Portugal 18, Italy 6, Cuba 4, Costa Rica 2, Ghana 2, Hungary 2, Mexico 2, Tanzania 2, Vietnam 2, China 1, Cook Islands 1, Greece 1, Guatemala 1, Ireland 1, Jamaica 1, South Africa 1, Ukraine 1, and in the U.S.A. – South Dakota 7, Montana 5, Mississippi 2, Texas 2, Arizona 1, Hawaii 1, Minnesota 1, and West Virginia 1. Joe is deeply committed to service and even founded his own nonprofit to provide returning veterans with vacations. Read on for details on seasoned Team Leader Joe Testa.
---
What initially motivated you to serve with Global Volunteers 20 years ago?
It began in 1990 after I read a magazine article about Global Volunteers. This type of vacation intrigued me as an opportunity to see the world, help those in need, and learn a culture. What a concept. I contacted Global Volunteers and, coincidentally, they were involved in a water project in Guatemala and preparing to send a team in the fall. With my background in water systems, this was an ideal match. It was two of the most profound weeks of my life. It truly opened my eyes about giving, bonding with a team, and sharing of talents. It was humbling and I was hooked.
"It was two of the most profound weeks of my life. It truly opened my eyes about giving, bonding with a team, and sharing of talents. It was humbling and I was hooked."

– Joe Testa, Volunteer Team Leader
What compelled you to become a Volunteer Team Leader?
After my service program, I followed up with a letter to Bud Philbrook expressing my interest in becoming a team leader. After a couple of phone interviews, I was invited to attend a team leader training program in Texas. It was an intense week of training combined with working on their project. I led my first team to Metcalf, Mississippi the following year. My greatest satisfactions are:
The pure joy of seeing the world and experiencing different cultures.
Global Volunteers' unique philosophy of service.
We only go where invited, work on projects that benefit the communities, and local people are in charge.
Meeting and working with volunteers that have a similar mindset to share their talents to make the world a better place.
Returning home knowing that I have played a small role in helping volunteers realize the true sense of service and that together we have made a difference.
What encourages you most as a Team Leader?
Working behind the scenes and striving to have all volunteers realize her or his goals. My greatest pleasure is having a volunteer reach out to me and say, "Joe, I finally get it." It is not about the projects but the making of friends and the pure joy of giving and showing that we care.
Also, in a short period of time I make quite a few friends on service programs. Under normal circumstances, it would take me quite a bit longer to do that. I think we're a unique group of people who care about what's going on in the world and who try to contribute as best as we can. We're in a feel-good business. When you finish a program, you feel good about the fact that you've given up your time and expertise to help someone in need. That is a very good feeling.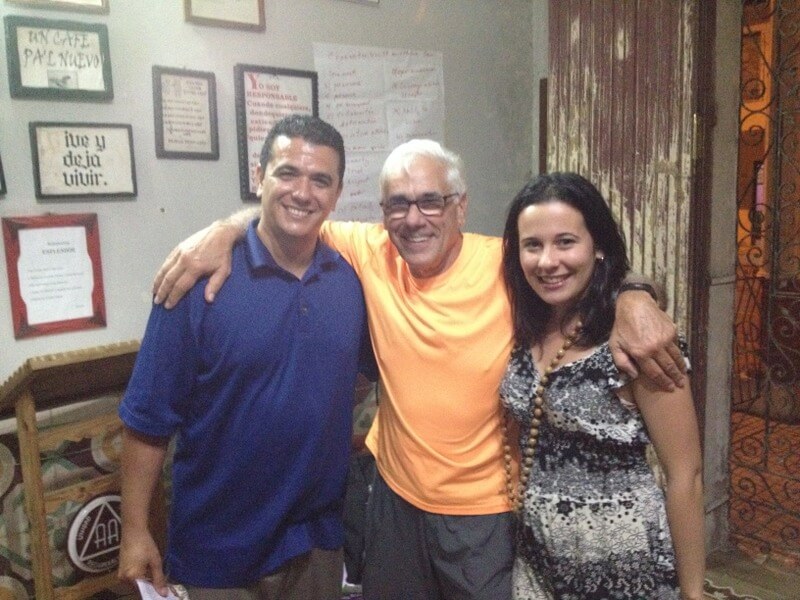 Why do you recommend a Global Volunteers service program?
If your reason for travel goes beyond just being a tourist, Global Volunteers should be your first choice. With our many seasoned team leaders and country managers, you will have many opportunities to learn the culture, work on meaningful projects that benefit the community, make friends, and depart with a true sense of service. There's so much more to be done. What we do speaks well for our country, and it works well. But we will always need more volunteers because the need is greater than what we can supply. I'm sure we there are many other communities we could help if we had more volunteers.
"If your reason for travel goes beyond just being a tourist, Global Volunteers should be your first choice."

– Joe Testa, Volunteer Team Leader
Do you have a favorite service program?
That's easy to answer. Without question, it's Portugal. The reasons are many. First and foremost, I have befriended many people whose friendships I cherish and I always look forward to seeing them. My wife always says that I have more friends in Portugal than at home. She is probably correct. The people are so welcoming and strive to make our visits very special. We have established a strong alliance with many schools and our partner teachers and their students always look forward to our arrival. A teacher once told me that, when "the Globals" are in town, school attendance increases. Just a few of my favorite things about being in Portugal are the charming cobblestone streets of Beja, its rich history, the hospitality of the staff at the Hotel Bejense, and the abundance of free-time activities. Beja moves much slower than in the big cities and the people realize that every new day is a gift. That's why I return year after year.
What can you say to people who are thinking about joining a service program for the first time?
I tell them that they might want to experience one in the U.S. before going abroad if they're uncertain. Have an open mind, be flexible, and always expect the unexpected. Don't be quick to evaluate. Take it all in, and think about it, and make your decision about your experience after you get home. While volunteer vacations aren't for everyone, if they are like me and the hundreds of volunteers that I have met, they will be hooked. The desire to help doesn't end with one event. The experience feels awesome. The world needs many more of us to do our part to make the world a better place to live.
Do you have a favorite memory of serving around the world?
I have so many, but one sticks out in my mind. I led a team of volunteers to Vietnam and at the end of our program, we were invited to attend a final celebration. We were in a van, so we couldn't see much along the way, but when we stepped out, we were amazed. There was a path of students, teachers, and other school staff that were lined up to let us know how grateful they were for what we had done. We were overwhelmed by the number of people who wanted to thank us. It was pretty incredible. Sometimes we might think we're not doing that much, but in the eyes of the people in the community it's a lot more than we realized.
What Volunteers Have Said about Joe
"Joe is an excellent team leader. He was organized, pleasant, understanding, warm, fun, and funny. A great person to be our leader." – Roberta Kayne, Portugal volunteer
"Joe has a great demeanor for leading a volunteer team, especially where on the fly flexibility and "go with the flow" attitude is necessary. He is very personable and engaging and cares very much about the relationship building and cultural learning opportunities as well as the service aspect of projects. I would join another project team with Joe as the leader." – Neal Heiss, South Dakota volunteer
"Personable, committed, effective with team, community and school personnel. You can count on this team lead." – Jayne Smith, Portugal volunteer
"Our team leader was conscientious, and well prepared to make our experience successful. He was extremely patient and understanding." – Nadine Walters, Portugal volunteer
"He's laid back, comfortable in his skin, warm and welcoming to all, keeps track of where we are and makes sure he communicates where we're supposed to be, which is no easy feat, since we're in many different places all day and into the early evening. He knows the town, brings in community members to expand our cultural and language knowledge. He's the best. Especially since we're a group of leaders not followers. The places he takes us to dinner are fabulous." – Judy Jonas, 8-time Global Volunteer
"Perfect; totally perfect. Diligent, supportive; does everything and anything to help achieve success."  – Linda Austrian, 5-time Global Volunteer
Joe's Background
Joe has been married to his dear wife, Sally, for 48 years. They have one son, Ben, and two beautiful grandchildren, Grace (10) and Brody (8). Joe graduated in 1973 with an MBA from Rochester Institute of Technology. After two short years working for another company, he, along with a partner, started Ground Water Systems, Inc., a wholesale distributor of water systems and water purification products. The business grew to three locations covering most of New York State and parts of Pennsylvania. In 2010, they sold the company and Joe has remained on as its general manager.
Joe Off the Clock
Joe also volunteers with Literacy Volunteers of America. He has been a mentor in the Big Brothers, Big Sisters programs for over 15 years, where he continues to mentor his "little brother". Ten years ago, he established a nonprofit to provide free vacations for veterans: Finger Lakes Homes for our Veterans. In his free time, Joe enjoys biking, swimming, and golf. He spends as much time as possible with his two grandchildren.
Joe will be leading a team in West Virginia starting on August 14, 2021.
---
To join a team under Joe's leadership, chat with a program expert now.
https://globalvolunteers.org/wp-content/uploads/2021/06/Portugal-2018-Team-2.jpg
1125
1500
Global Volunteers
https://globalvolunteers.org/wp-content/uploads/2016/02/2014-GlobalVolunteersLogo-Web.png
Global Volunteers
2021-06-09 10:00:00
2021-06-15 11:28:26
Meet Your Team Leader: Joe Testa