Global Volunteers' Long-term Partnerships in Peru Address Childhood Poverty
Global Volunteers' partnership in Peru, which began in 2001, has engaged a variety of community partners with the goal of serving children and families who need it most. In 2018, Global Volunteers accepted a pivotal invitation from our most formative partner – Sagrada Familia – to work broadly in areas of education, health care and nutrition, to help raise children's potential. In this retrospective on almost two decades of service, Peru Country Manager Daniel Salazar highlights the history of Global Volunteers' work in Peru leading to this momentous relationship.
---
In 2000, more than half of the population in Peru lived in poverty and approximately 4,000 children lived on the streets. Within that context, Global Volunteers was invited to support local communities in their efforts to rescue, feed, and provide education for at-risk children. Our first team served at Puericultorio Pérez Araníbar (PPA), the largest public orphanage in Lima in 2001. At the time, PPA hosted approximately 800 orphaned, abandoned, or abused children from the streets of Lima. Volunteers provided care, psycho-social support, and English classes to children from birth to eighteen years old. Volunteers also provided assistance with maintenance and renovation projects to improve the facilities for the children. Perhaps most importantly, volunteers' support provided the resources to allow siblings who were otherwise separated to spend quality time together through the siblings program.
A few years later, Global Volunteers was also invited to work with Ciudad de los Niños (CDLN), a Catholic home that provides food, education, health services, and trade education for approximately 300 boys from families who lack the means to care for their children. Similar to our work at PPA, volunteers provided care, psycho-social support, and English classes to children as well as support in maintenance projects. As CDLN grew increasingly more self-sufficient, we concluded our work at CDLN in 2010 and turned our attention to another facility that requested our support: Universidad Agraria La Molina (UNALM).
UNALM is Peru's highest-ranked university in the fields of agricultural and forestry sciences. As a public university in Peru, its free tuition attracts young Peruvians from all over the country, mostly from low-income families. Students are eager to learn English to improve their academic and professional prospects, while it's also required to graduate. Unfortunately, UNALM lacks the resources to hire native speakers as teachers, so the Language Center at UNALM (LMLC) invited Global Volunteers to complement the education they provided. Since 2010, Global Volunteers has provided conversational English classes to students, staff, and the community. From the beginning, students have greatly appreciated volunteers as they provide them with a unique chance to practice with native speakers. This partnership with UNALM continues until now, and volunteers to Peru who would like to participate on this project teaching conversational English can register to do so.
In 2015, the mountainside shanty town of Alto Progreso asked Global Volunteers for support to improve the daily lives of children and families. Alto Progreso is a struggling community of about 350 families in the south barren hills of Lima. People in Alto Progreso have electricity, but they lack running water and a sewage system. Amidst abject poverty and extraordinarily challenging living conditions, the community requested our help with local infrastructure projects, art and English workshops for children, and support at a community kitchen. From 2015 to 2017, Global Volunteers mobilized teams to Alto Progreso.
From 2017 to 2018, Global Volunteers also assisted the Human Development Department of the celebrated Municipality of Miraflores with English workshops for service workers' children, and to improve public schools and the city's community center. During this time, new bureaucratic barriers made it impossible for Global Volunteers to keep supporting PPA, and we accepted Sagrada Familia's invitation to begin work in Ancón, on the outskirts of Lima city.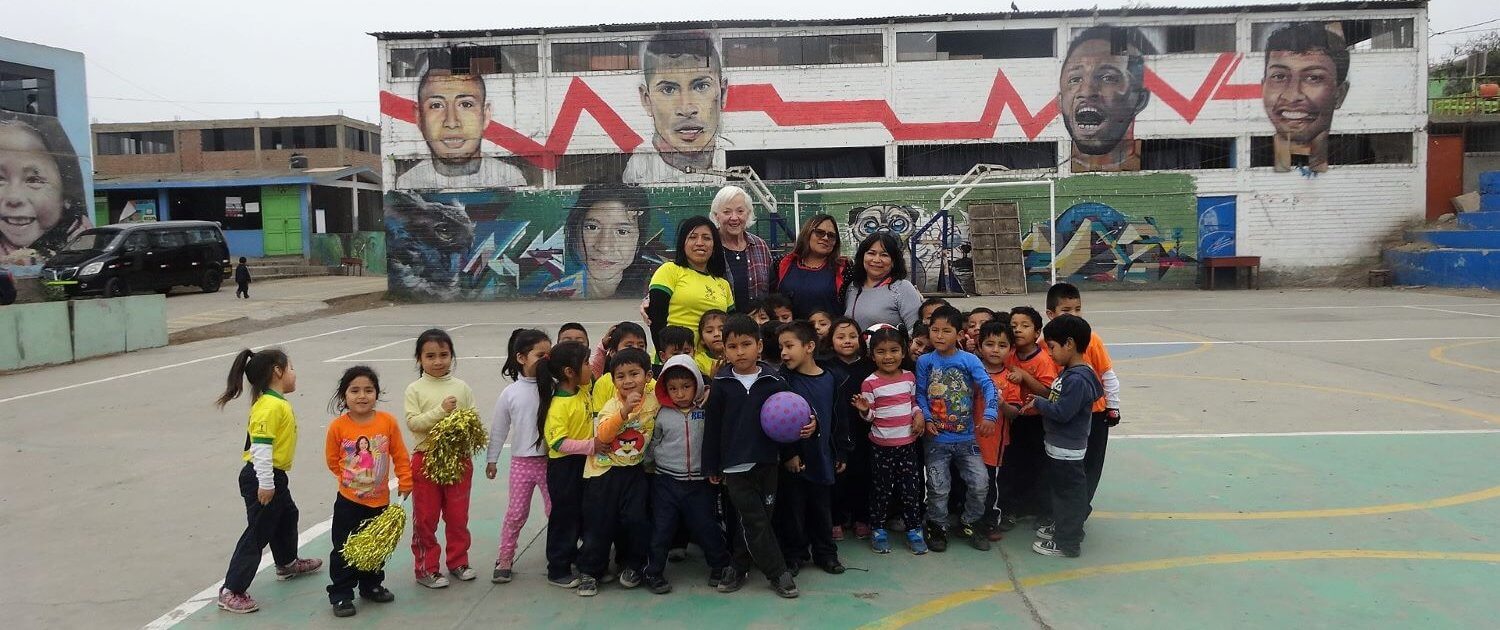 Sagrada Familia, Sacred Family in Spanish, is a private children's home that houses approximately 200 children and offers education and meals to over 1,200 students. As a private organization, it opened an opportunity for Global Volunteers to support them without the limitations of constantly changing administrations and bureaucratic concerns. Most importantly, Sagrada Familia receives no funding from any public or private organization, so the need is ever-present. Day in and day out, they work hard and struggle to provide enough food, clothes, medicine, and education materials for the children. But Miguel Rodríguez, the founder and director of Sagrada Familia, accepts the challenge courageously and in good spirits.
More than 30 years ago, after the death of his infant son, Miguel Rodríguez started giving out food to children in the streets of Lima. Eventually he brought some of them home, and soon enough he had way more children than he could host at his house. He quit his job, sold everything he had, and moved with his family and the children to a barren hill to start Sagrada Familia children's home. After hearing Miguel's story, visiting the community, and speaking with some Sagrada Familia alumni and children, Global Volunteers realized this was the perfect place for us and our volunteers to support. Now Global Volunteers helps Sagrada Familia teaching English to high school and elementary school students, teaching sports to all grades, caring for children at the daycare, assisting pre-K teachers with their classes, providing medical care at the health clinic, assisting in the community kitchen, and working on construction and maintenance projects.
In addition to our regular projects, volunteers have been involved in all sorts of activities, including dancing lessons, choir lessons, trips to the beach, camping, health workshops, and decorations for Christmas and New Year's Eve celebrations. The reality is that in these two years serving at Sagrada Familia, Miguel, the staff, and the children have grown very fond of volunteers. They call our volunteers tíos (aunts and uncles) and consider us part of their family. The bond that now exists between the children and volunteers is strong and continues to grow. As volunteers have mentioned several times, the love you find at Sagrada Familia is simply indescribable, and this makes it a "magical" place.
The last team to serve at Sagrada Familia was in February 2020, just before the pandemic. As the team was leaving, a bunch of girls jumped into the van to hug and kiss volunteers goodbye. Amid the goodbyes, the girls asked me when would volunteers come again. I told them we would be back in March – we had a team already scheduled. Then they asked "Are you sure?! Do you promise?!" I must confess I broke a Global Volunteers' policy – I made a promise: "Yes. I am sure! We will be back in March, I promise." Then they asked: "Will you be back in March?" "Yes, I will be here. You know I come all the time," I replied. That was enough for them to smile and wave goodbye. But none of us knew what was in store for the world.
---
You may also like:
https://globalvolunteers.org/wp-content/uploads/2020/05/Children-thank-volunteers-aborad-for-support-sagrada-familia-lima-peru.jpg
844
1500
Global Volunteers
https://globalvolunteers.org/wp-content/uploads/2016/02/2014-GlobalVolunteersLogo-Web.png
Global Volunteers
2020-06-17 15:00:00
2021-11-25 22:44:12
Global Volunteers' Long-term Partnerships in Peru Address Childhood Poverty