How to Volunteer Abroad as a Group
In addition to individual volunteer programs, Global Volunteers provides meaningful opportunities for groups to contribute towards international long-term development projects. Over the years, we have mobilized hundreds of volunteers on organized programs for groups, small or large, intact or as part of individual teams. Currently, we have programs in 14 countries across five continents: Africa, Asia, Europe, North America, and South America. Read more below on group volunteering with impact.
---
Your group is a valuable resource to our community host partners around the world. Whether you represent a workplace, an educational institution, a professional association, a faith-based organization, or family-friend group, Global Volunteers' model of service provides you opportunity to make impact, learn, and grow, and offers your team an experience that is life enhancing, and sometimes, even life changing!
Our experience in effective group engagement on long-term development projects for more than 30 years means you benefit from everything we've learned. In order to assist you best, we consider your group parameters, from schedule to assignment, to help deliver on your volunteering goals for each new adventure in service. Our proven best practices and the relationships we build in community prepare your team for success from the start.
Why volunteer abroad as a group?
When you volunteer abroad as a group, you obtain educational, cultural, and occupational opportunities that can't be duplicated through a traditional "tour" experience. Plus, you learn about each other (and yourself!) in a non-traditional way as an intact volunteer group.
As a team, you connect with people who need and want your assistance on important development projects – like teaching English in Vietnam, aiding in health care in Tanzania, providing child care in Ecuador, sewing with a women's group in Cuba, or tutoring in St. Lucia. What's more, you learn first-hand about their culture and traditions while also providing essential services to the people and communities you serve.
What does Global Volunteers consider a "group"?
A Global Volunteers group comprises of individuals who simply want to volunteer together. Small groups of like-minded friends join us over the summer or for a spring break. Families seek deeper and new ways to connect besides their annual reunion. Corporations wish to build teamwork skills or support their missions to serve using this type of adventure. Professionals share the special skills they've developed with life experience and coursework, either together as one intact group or on a team of maybe one or two from the same association.
We also work closely with students as young as middle and high-school aged to all university and college levels from freshmen to residency to administration. Our Strategic Partnerships Team works with your group and our in-country staff to customize a program that meets particular skills or areas of study as best as possible.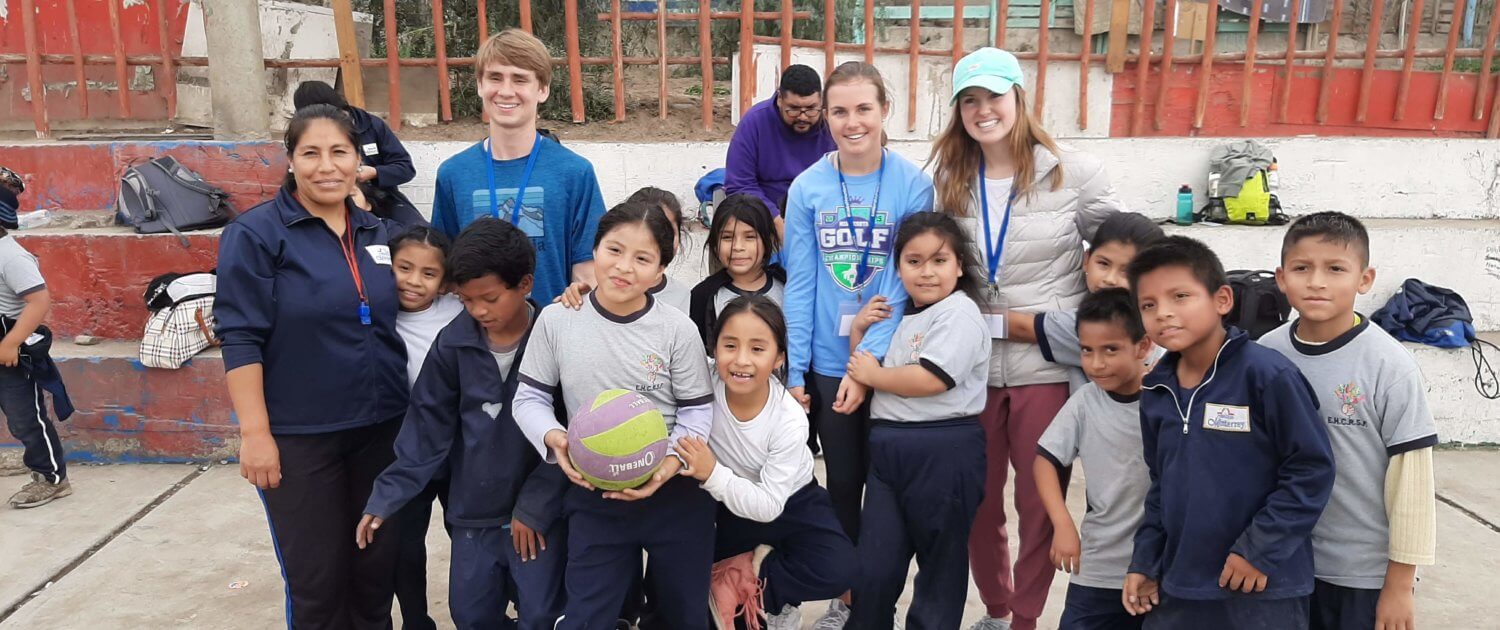 We have a group! Where can we go and what type of volunteer work can we do?
You can volunteer abroad as a group in almost any of our 17 service programs around the world! The length of your stay is between one and four weeks, with free time in the evenings and on the weekends for add-on excursions and cultural activities. Our Partnerships Team can recommend a best program based on when your group is available and the type of project work you wish to contribute towards.
The type of volunteer work you do depends on (1) what our host communities have requested from us and (2) the preferences of your group. Global Volunteers' unique philosophy of service requires volunteers to work at the invitation and under the direction of local community partners — and one-on-one with local people. While remaining faithful to this philosophy of service, we do our best to tailor to your preferences. We know the optimal experiences offer flexibility without overwhelming the community you came to help. No matter what you do, your group is assured a meaningful exchange with local people and participation on the priority work of the community.
In many cases, groups have a mixed-skill set. This is wonderful! We can typically accommodate a group's wish to volunteer on a variety of projects. For example, part of your group can teach conversational English at the local secondary school while the other part works on a labor/light construction project nearby.
What do other groups do to offset the costs of volunteering?
Is fundraising right for your group? Many groups we've worked with over the years have raised funds to cover their entire service program contribution through donations. Fundraisers receive help from us along the way with our online fundraising page and free-to-use platform, Flipcause! We share tips, creative strategies, success stories, and more throughout the process to inspire and help motivate your group wherever needed. We think you'll be amazed by what you can achieve as a team!
And your adventure in service begins…
As soon as you arrive in-country, our local team is there to welcome you, most instances at the airport. Within no time at all, your group settles in and acclimates to your "home away from home". The support from our dedicated and experienced local team, delicious local cuisine, and safe and comfortable accommodations are the first elements to service your group appreciates. Let the volunteering begin!
We encourage you to share your experiences with others around the world throughout your volunteer journey. From the moment you sign up to volunteer abroad as a group to six months later when you're reminiscing about your adventure, use #GlobalVolunteers on your social media accounts – Twitter, Instagram, and Facebook! Your experiences inspire others to follow in your footsteps by organizing their own Global Volunteers group.
Ready to pack your bags?
Contact the Global Volunteers Strategic Partnerships Team with your questions or group specifics. We look forward to visiting with you about this exciting volunteer option and assisting your group in getting packed!
---
People of all ages, from all walks of life, choose Global Volunteers to fulfill their volunteer goals through our worldwide service programs.
You might also like:
https://globalvolunteers.org/wp-content/uploads/2019/04/IMG_3627.jpeg
1125
1500
Global Volunteers
https://globalvolunteers.org/wp-content/uploads/2016/02/2014-GlobalVolunteersLogo-Web.png
Global Volunteers
2021-06-01 10:00:00
2021-07-23 12:04:50
How to Volunteer Abroad as a Group