Best Alternative Spring Break Volunteer Programs for 2024
Students and their families have traveled the world with Global Volunteers making a difference since the mid-1980s. Service Programs to expand your boundaries, change your perspective and make a significant contribution are numerous in 2024. We schedule these volunteer opportunities with our community partners during March and April – standard spring break months – to optimize genuine service-learning for students, families and school groups. Further, you can register at any time in the year to hold your space. Read on to learn how you can help create, nurture and sustain the well-being of the world's children and their communities on the best spring break of your life.
---
Our Spring Breaks Change Children's Lives.
When you serve with Global Volunteers, you focus on children's health and development. We know that when children can reach their full potential, they can become contributing members of their society. That's why investing in children and securing their potential means changing their country's future. That's how you have the greatest impact. You and every other volunteer are unique links in a long chain of service, sustained by successive teams of volunteers, year after year, in partnership with community leaders. As a single link in this chain, you provide unique service by sharing your personal skills and expertise that often are not otherwise available to children and their families. In just one or two weeks, you can change the arc of a child's life, gain a new perspective of the world, and add meaning to your own life as well.
Our community partners ensure volunteer assignments for each team address current local needs. The work projects are adjusted throughout the year to maximize impact, and generally fall within four broad program areas: 1. Delivering essential services; 2. Teaching conversational English; 3. Supporting community development and; 4. Supplementing school-based curricula.
Students, families, and intact groups build on years of volunteer service under the direction of local leaders. This continuity from month to month and year to year is central to your opportunity to make the greatest contribution in just one to three weeks. Work with our volunteer coordinators to choose an option to match your skills, interests and energy!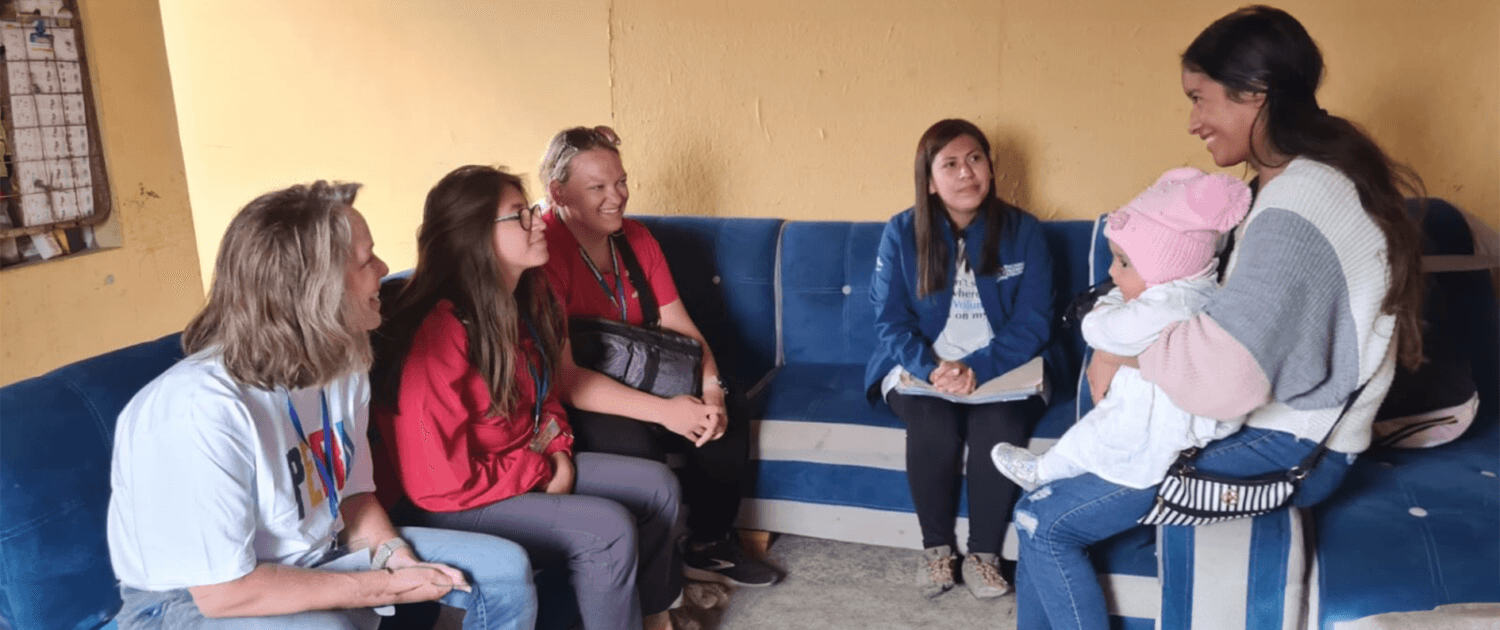 Spring Break Option #1: Deliver Essential Services to Families
Parents and caregivers are responsible for ensuring their children's futures, but volunteers provide the necessary information, appropriate technology and ongoing support. Volunteers from all backgrounds provide catalytic assistance and material resources to help families access the 12 Essential Services – so children have sufficient food and nutrition, are protected from infectious disease, and can exercise their full intellectual capability through education.
Simple concepts and readily available technologies can launch innovations that engage parents, teachers, children and volunteers alike. Volunteers "build a bridge" to resources for local people in developing communities and help ensure their children have a chance to reach their full potential. Working with children, volunteers' positive influence ripples through the community – paving an avenue to lasting change. You can have a dramatic impact on what may otherwise seem to be intractable socio-economic global problems.
Based upon your skills, interests, and available projects, you will be assigned to one or more service projects available in the service program. As a volunteer, you may be asked to teach nutrition, hygiene, food preparation to children and adults in schools and in workshops, help establish household gardens, distributing fortified meals, toothbrushes and toothpaste, hand sanitizer and other needed supplies to families, build handwashing stations, chicken coops, and smokeless stoves, demonstrate proper handwashing, support women's co-ops and entrepreneurial ventures, or provide healthcare assistance.
Deliver essential services here during spring break 2024:
Spring Break Option #2: Teach Conversational English
English is the international language of technology, commerce, and opportunity. English opens doors to children's futures. In developing countries, English can be a passport out of poverty, but most youth have no access to English language instruction. You can be a valuable resource in classrooms, small groups or offices to teach conversational English to children and adults.
No formal teaching experience is required. We provide you our proprietary teaching guide including fun, interactive lesson plans, cultural adaptations, and suggested songs and games appropriate for all learning levels. Each setting presents different opportunities and joys. While adult students who value English in professional settings may pursue business English, youth are always fun-loving, and are motivated by new approaches and physical learning.
Teach conversation English here during spring break 2024:
Spring Break Option #3: Support Community Development
Children rely on their communities to support their needs. During an alternate spring break, you work at the community level, where vegetables are planted, children are taught, and health care is delivered. Assignments are structured to engage you at a place and pace appropriate to your personal experience and energy. Together with your teammates, you build on the efforts of previous volunteers, enhancing the community's capacity and long-term knowledge base. This is how you maximize your impact. You dedicate your professional expertise, life experience, and long-held interests to an individual assignment that ripples through the entire community.
Because Global Volunteers' development philosophy requires community partners to provide local participants in a number equal to or greater than the number of volunteers invited, the resulting human resources available to help meet the needs of children are magnified. Ultimately, the positive, constructive results of this interchange, when sustained through volunteer teams serving several times a year, for many years, in hundreds of partner communities worldwide are exponential.
As a catalyst for lasting change, you can contribute to your greatest potential, because our resourceful community partners have the vision and local support to direct you and each other individual's work assignments. Together with your family, group and other team member, you are the "helping hands" for on-going, long-term development projects that sustain the community's autonomy and self-sufficiency.
Support community development here during spring break 2024:
Spring Break Option #4: Supplement School-Based Curricula
Children need trained and dedicated teachers, functional school buildings, adequately furnished classrooms, current textbooks, adequate school supplies, safe play areas, and stimulating classes. You can help meet these needs worldwide. In many developing communities, these basic requirements are not available. You can help children learn at the elementary, secondary and university levels, so both girls and boys contribute equally to their country's economy, culture and community life.
Families, groups and students promote safe and welcoming learning environments where psychosocial support is a part of the curricula. You can demonstrate positive classroom discipline and redirection strategies, and help provide a stable academic environment.
What are your skills? Even if you've never worked in a classroom, you can help teach math, science, computer literacy, geography, music, art, agriculture, health, nutrition and hygiene by sharing your own knowledge. Make learning fund by reinforcing study skills; helping coordinate field trips and providing school supplies. In some schools, you can help develop classroom lessons, business, trades and entrepreneurship courses and gender-inclusive curricula.
Supplement school-based curricula here during spring break 2024:
Join an Alternative Spring Break in 2024.
Volunteering on an alternative spring break is an amazing opportunity to step out of your comfort zone and explore the world in a meaningful way. Most students report it's an inspiring and life-altering experience.
If you're eager to travel but seek a purpose outside your "bubble," Global Volunteers will work with you on a meaningful Spring Break in 2024. It's time to start planning, with your family or with your squad, to serve with compassionate and like-minded volunteers from a variety of backgrounds.
Whether you're an undergrad or a lifelong student, you can serve and learn! Call 651-407-6100.
---
Y
You may also like:
https://globalvolunteers.org/wp-content/uploads/2022/12/Student-Volunteer-Abroad-Programs-with-children.jpg
551
1030
Millie Pinakoulaki
https://globalvolunteers.org/wp-content/uploads/2016/02/2014-GlobalVolunteersLogo-Web.png
Millie Pinakoulaki
2023-10-05 10:00:00
2023-10-02 09:41:21
Best Alternative Spring Break Volunteer Programs for 2024