Crete's Beauty and Children are Global Volunteering Couple's Reward
Global Volunteers alumni Tom and Rondi Olson were eager for their service program in Crete, Greece. After serving in Peru and Cuba, they said the island's craggy beauty and friendly culture drew them to their next volunteer adventure. In a two-part blog post, Rondi and Tom report on the students, teachers and volunteers they worked with, and follow up with an enthusiastic recommendation of Cretan cuisine and free-time activities.
---
Part One: We're in Crete!
We awoke to the sound of the rooster crowing and the church bells chiming – a pleasant alarm clock. After an early morning visit to the local Greek Church, and a fabulous cup of Greek coffee with a Greek pastry at the local coffee shop, we met Sam, our team leader and teammates for our orientation meeting. The weather was perfect, so we sat outside by the pool, in the shade of the trees in what can only be described as paradise. It was important to clear our minds and be ready, willing and open to learning, without constantly trying to compare this experience to our previous wonderful experiences with Global Volunteers. We reviewed the program expectations; we're not here to take over, take charge or impose our ideas, but to provide assistance where it's needed.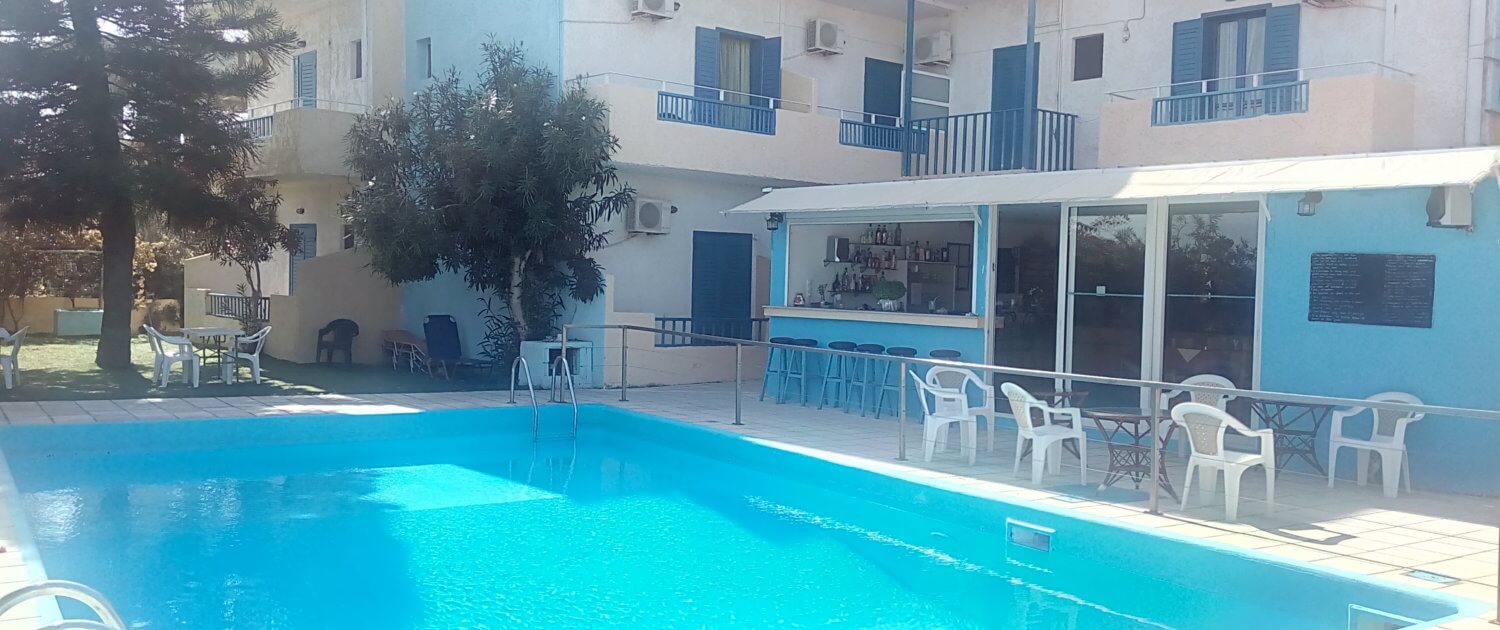 The School:
We were assigned to Tenia's Language School, which is within perfect distance from our hotel, (about a 10 minutes cab ride). The work project begins with three to four hours of lesson preparations in the afternoon. Classes begin at 5 pm and end at 9 pm. The students, for the most part, have lessons, Monday-Wednesday-Friday or Tuesday-Thursday. Each class has students who are progressively more proficient in English. The ultimate goal is for the students to pass a five-part English proficiency test including vocabulary, writing, conversational speaking, and critical thinking in English. The range in proficiency in each class is pretty wide and the test is used a little like an SAT AP test. But the impact here is even greater than passing the American SAT, because while universities are free in Greece, admission is not assured, and extremely competitive. An English certificate (that is awarded through the proficiency test) is a plus! We feel integrated into their success.
"What you leave behind is not what is engraved in stone monuments, but what is woven into the lives of others"- Pericles.
---
The Headmistress, Tenia:
Tenia is a very hands-on, multi-tasking teacher. In her class, some kids are working on workbooks, some reciting vocabulary and some writing what they have learned. The lessons are based on material they are required to study at home. As volunteer teachers, we provide the students an opportunity to speak with native English speakers. The lessons also provide the perfect opportunity to get to know the students personally. It was heartwarming that often,Tenia had to tell the kids class was over, and we had to finish. But they'd ask if they could just discuss one more topic. It was really flattering and they were so cute!
As Tenia grew more confident in our skills as volunteers in her classroom, we were given more responsibility. We practiced the lessons with them one-on-one and in small groups. She usually ends each class with an oral/ written exam, and when the students successfully complete the test, they go home. The last student may leave 30 minutes after the first student, but they all pass before leaving. She has a 100% pass rate at her school. A bonus, she loves to bake "Greek treats," not only out of appreciation for the work that we do, but to share her heritage and Cretan cuisine with us too.
The Students:
Once you get to know the kids, teaching is so much more fun! For one class, we worked with a student on an essay about "why some people like taking risks," (like extreme sports) while other people "play it safe." Her essay was two paragraphs, but very well written for a 14-year-old. We went over it together discussing the writing and then the topic itself. She, like many of the students at the school, are immigrants/refugees from Albania, Morroco, and Syria. She's very smart and charming and it was fun getting to work with her. We also had an interesting cultural conversation about another 15-year-old student's home life.. He described his house physically, and his family. I'd learned earlier that many Greek families live in multi-generational homes. This student lives with his paternal grandparents on the first floor, his parents and three brothers on the second floor, and on the third floor is his paternal aunt and her husband and two children. They actually live somewhat separately – eating together only on special occasions like Christmas, Easter or other important holidays.
"Educating the mind without educating the heart is no education at all"

– Aristotle
Our Team Leader:
Leading a team of volunteers seems to require the perfect combination of mother duck, cheerleader, and goodwill ambassador. The subtler trait is the ability to keep the team focused on the mission, and not distractions like a country's political conflict or other peripheral issues. Sam epitomizes what it takes. She meets us with bottomless cheerfulness and optimism. She guides us with a unique combination of intimate knowledge of the country while being able to communicate with us in our native language.
It seems Sam isn't whitewashing the realities of the world we travel in, but rather only providing context to our mission. We know we're not here to cure the country's woes, but rather to succeed in our service in spite of them. Sam is with us in the morning, and when appropriate throughout the day, and then again when we teach at night, staying as long as the conversation lasts. She never says, "I need to get home to my family." She was there for us, and more subtly the mission. From our point of view, she's the perfect model team leader/ country manager.
---
Join a Global Volunteers Service Program in Crete
Visit our Greece page for FAQs, program dates, project descriptions and more. Or, chat now with a Volunteer Coordinator to get started today. We're ready to assist you with travel questions, registration guidance, and other program details.
https://globalvolunteers.org/wp-content/uploads/2016/10/Creete-Greece.jpg
1125
1500
Sam Pinakoulaki
https://globalvolunteers.org/wp-content/uploads/2016/02/2014-GlobalVolunteersLogo-Web.png
Sam Pinakoulaki
2019-02-20 18:42:59
2021-09-20 23:08:52
Crete's Beauty and Children are Global Volunteering Couple's Reward